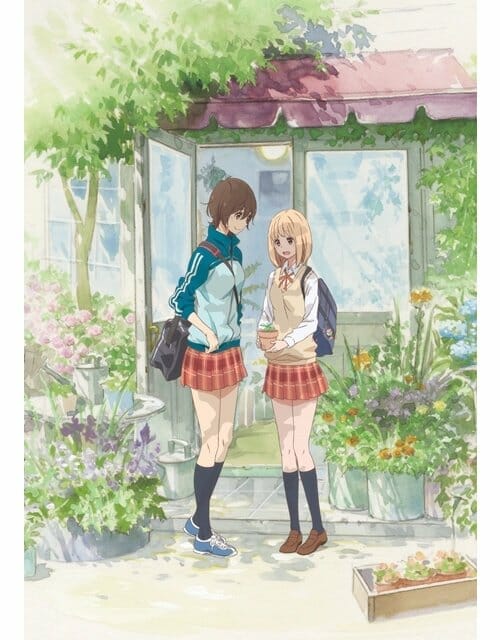 Earlier today, Sentai Filmworks took to Twitter to announce the English dub cast for Kase-san And Morning Glories. The series will star the following:
Kase: Morgan Berry
Yamada: Bryn Apprill
Mikawa: Apphia Yu
Yamada's Mother: Shelley Calene-Black
Teacher: Luci Christian
Coach: Patricia Duran
Additional Voices: Elissa Cuellar
Additional Voices: Karlii Hoch
Additional Voices: Ty Mahany
Additional Voices: Melissa Molano
Additional Voices: Holly Segarra
Additional Voices: Avery Smithhart
Additional Voices: Olivia Swasey
Additional Voices: Cat Thomas
Additional Voices: David Wald
Additional Voices: Sarah Wiedenheft
David Wald is directing the adaptation, which features scripts by Melissa Lenti. Sentai also began streaming a teaser trailer for the dub, which you can check out below.
Sentai Filmworks will ship Kase-san and Morning Glories on home video on October 22.
Kase-san and Morning Glories opened on June 9, 2018 at twenty Japanese theaters, including the Shinjuku Baltic 9 and Ikebukuro HUMAX Cinema.
Takuya Satō (Steins;Gate, Girls Beyond the Wasteland) directed the OVA at studio ZEXCS, with Kyuta Sakai providing character designs. rionos scored the show's soundtrack.
Minami Takahashi and Ayane Sakura performed opening theme song Asu e no Tobira (Door to Tomorrow).
Sentai describes the title as:
Shy, reserved Yui Yamada is a budding horticulturist who is responsible for caring for her high school's greenery. While tending to her campus' morning glories, Yamada has a chance encounter with the vivacious, sporty Tomoka Kase, star of the girl's track team. Yamada and Kase could not be more different and they have a lot to learn about one another, but as their friendship grows, their feelings begin to blossom into something more…
Source: Twitter (SentaiFilmworks)
Sentai Filmworks Announces Kase-san And Morning Glories Dub Cast – Samantha Ferreira