Earlier today, an official website and Twitter account opened their doors to announce that an original anime project, titled Tokunana (Keishichō Tokumu-bu Tokushu Kyōaku-han Taisaku-Shitsu Dai-Nana-ka -Tokunana-, lit. Metropolitan Police Department Special Division Heinous Crime Investigation Unit Special 7: Tokunana) is in the works.
The site includes the first cast and crew members, along with a trailer and key visual. We break the details down below.
Trailer
The minute-long teaser opens with harsh monochromatic coloring and close-ups of the main characters preparing for duty. It them cuts to an action scene, in which the members of Tokunana show their stuff as they're introduced to the world. All the while, a brassy, upbeat melody plays as a background track.
Key Visual
The image features the titular Tokunana characters bathed in a warm orange. They're standing behind a stark yellow band of police tape.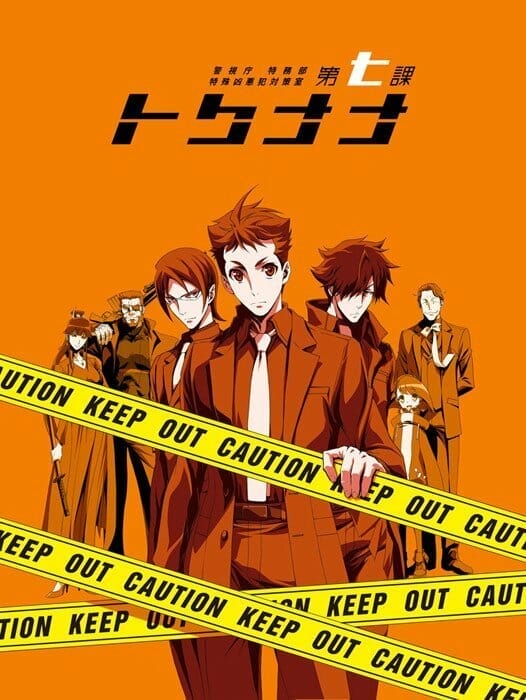 Staff
Takayuki Kuriyama (Angolmois: Record of Mongol Invasion) will serve as chief director on the project, while Harume Kosaka (Make-Up! Sailor Senshi, Saint Beast) takes the director's chair. Peace Maker Kurogane creator Nanae Chrono  is providing character designs, while Yuichiro Higashide (Fate/Apocrypha) takes charge of series composition.
Other confirmed crew members include:
Original Character Designs: Hiroya Iijima
Cast
The confirmed voice cast includes:
Seiji "Rookie" Nanatsuki: Hiro Shimono
Shiori "Charisma" Ichinose: Kenjiro Tsuda
Kujaku "Analyzer" Nijō: Tatsuhisa Suzuki
Other characters, whose actors haven't been announced include:
Akane "Samurai" Shikisai
Bellemer "Ninja" Cinq
Rokusuke "Sniper" Endō
Sakon Zeroemon "Boss" Kiryūin
Visuals for the characters have also been revealed, which you can check out below.
Tokunana will hit Japanese TV in Fall 2019.
Sources: Animate Times, Comic Natalie
Original Anime "Tokunana" in the works; First Visual, Trailer, Cast, Crew Revealed – Samantha Ferreira