Earlier today, the official Bean Bandit Kickstarter sent an email to Backers to announce that the project was delayed until 2020. In the update, creator Kenichi Sonoda apologized for the delay, and stated that the team "Will deliver Bean Bandit next year."
The project was originally slated to ship in November 2018.
Kenichi Sonoda will serve as General Director for the project, with Yū Aoki serving as director. Keizo Shimizu (Star Blazers 2199, Cobra The Animation) will provide character designs for the work.
Other confirmed crew members include:
Animation Supervisor: Shujirou Hamakawa
Production Supervisor: Showji Murahama
Sound Director: Hisayoshi Hirasawa
The confirmed voice cast includes:
Bean Bandit: Hidenori Takahashi
Rally Vincent: Ayaka Asai
Minnie May Hopkins: Hiromi Igarashi
Becky "The Nose" Farrah: Eri Kitamura
The Kickstarter for Bean Bandit ran from May 8 through June 17. The project managed to bring in ¥23,343,872 ($210,229.39 USD) across 1,928 backers with an average contribution of ¥12,107.82 ($109.04 USD) per backer.
The campaign originally had a funding goal of ¥15 million ($135,086.46 USD), which it reached on June 3.
With the funding reached, Sonoda aims to make a five-minute film, which will be offered in both English and Japanese. According to their latest update, Sonoda will work with "authors of many transaction-proven English dubs" for the English audio.
Sonoda's Riding Bean launched in the pages of Monthly Comics Noisy in 1988. The title ran for just four chapters, and remains unfinished.
The title was originally conceived as an OVA, which hit retailers on February 22, 1989. Yasuo Hasegawa (Ai no Kiseki – Doctor Norman Monogatari, Cosmos Pink Shock) directed the feature at studios AIC, ARTMIC, and Youmex, with Sonoda providing character designs and writing the screenplay.
AnimEigo released the title in North America on Blu-Ray, DVD, and VHS.
Following Riding Bean, Sonoda launched the Gunsmith Cats manga in Kodansha's Monthly Afternoon magazine in February 1991. The series ran through June 1997, and spans eight collected volumes. A sequel, titled Gunsmith Cats BURST ran from September 2004 through October 2008 in Afternoon magazine.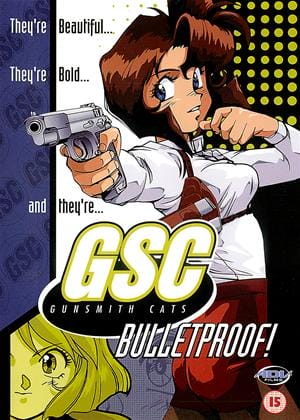 The series received a three-episode OVA in 1995. The project was directed by Takeshi Mori (Stratos 4, Vandread) at Oriental Light and Magic, with Kenichi Sonoda (Bubblegum Crisis, Gall Force) and Norihiro Matsubara (Pokémon: Black and White, Berserk) teaming up to provide character designs. Atsuji Kaneko wrote the screenplay.
Jazz drummer Peter Erskine composed the show's soundtrack.
ADV Films released Gunsmith Cats in North America on VHS in 1996. The series received a DVD release in 2001, followed by a re-release under ADV's "Anime Essentials" imprint in 2004.
In December, AnimEigo announced that they acquired the license for the Gunsmith Cats OVA series. The publisher succesfully crowdfunded the title, raising more than $350,000 by the time the campaign closed on April 23, 2018. They shipped the series on Blu-Ray earlier this year.
AnimEigo describes the OVA as:
Unusually for anime, Gunsmith Cats is set in the United States — specifically, Chicago. Rally Vincent and her friend May Hopkins run a gun-shop and moonlight as bounty hunters, which often put them at odds with both the local underworld and the local law (especially since May has a great affection for high explosives).

In this 3-episode OVA, Rally and May are blackmailed by a slimy ATF agent into helping him bust some gunrunners, but things rapidly get out of hand when they run afoul of a shadowy mastermind and a psychotic Russian hitwoman!
Source: Kickstarter