Earlier today, Sentai Filmworks sent out an email announcing that their rights to the A-Channel anime have expired.
Sentai is currently selling their remaining stock on their website, with the complete collection priced at $11.99 on Blu-Ray and $9.99 on DVD.
Sentai will offer the title while supplies last, or until April 30.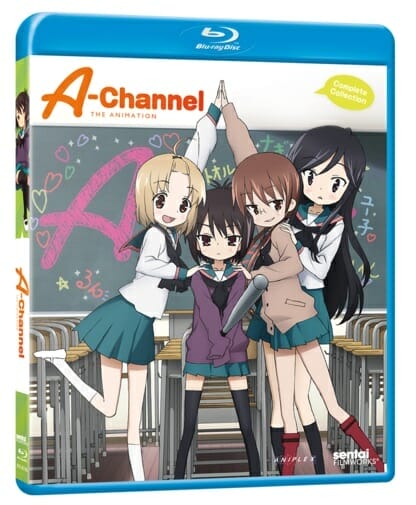 A-Channel is a 2011 series based on bb Kuroda's manga of the same name. Manabu Ono (Horizon in the Middle of Nowhere, Sword Art Online: Alicization) directed the project at Studio Gokumi, with Masakatsu Sasaki (Saki, Seiyu's Life!) providing character designs. Tatsuhiko Urahata (Hi Score Girl, GATE) was in charge of series composition.
Sentai describes the show as:
Toru and Run have been best friends forever, so when Toru learns that she's managed to get into the same high school as Run, she runs to tell her… only to find Run in a compromising position with yet another girl, Yuko. Needless to say, that makes things a bit awkward at school, with Toru fending off those who might be interested in Run while Yuko and their other girlfriend, Nagi, have to deal with Run's own penchant for drama. But it's not all angst all the time, and as the school year progresses the four girls and their many classmates find time to laugh, play and figure out how to handle the unexpected problems life likes to throw at them. Like bugs in the house, accidentally giving each other horrible haircuts, freezing up at karaoke or forgetting to put your underwear on in the morning. When it comes to learning about the real world, there's always something 'educational' to be found in A-CHANNEL: The Complete Collection.
Source: Sentai Filmworks (Email Communication)
Sentai Filmworks' License for A-Channel Expires – Samantha Ferreira