Earlier today, the official Psycho-Pass 3 anime website updated with a new trailer, plus a pair of character visuals. We break the details down below.
Trailer
The 27-second promo cuts between static shots of the show's leads, as an electronically-infused song plays in the background.
Character Visuals
Visuals for Arata and Kei were revealed, which you can check out below.
Psycho-Pass 3 will air in October on Fuji TV's NoitaminA block.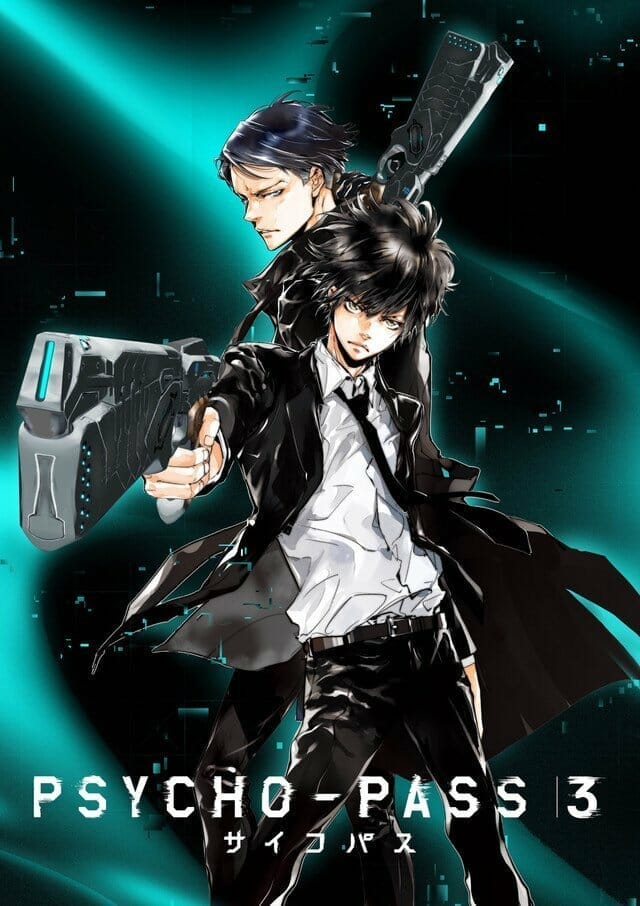 Naoyoshi Shiotani (Psycho-Pass, Blood-C: The Last Dark) will return to direct the project at Production I.G., with Akira Amano providing original character designs.
The confirmed voice cast includes:
Arata Shindō: Yuuki Kaji
Kei Mikhail Ignatov: Yūichi Nakamura
Psycho-Pass is an original anime project from Production I.G., which first aired in the Fall 2012 broadcast season. Katsuyuki Motohiro and Naoyoshi Shiotani (Blood+) helmed the first season as chief director and director, respectively. Kyoji Asano (Attack on Titan) provided character designs on the title, while Gen Urobuchi (Puella Magi Madoka Magica, Blassreiter) took charge of series composition.
A sequel show, Psycho-Pass 2 aired in Fall 2014. Naoyoshi Shiotani and Kiyotaka Suzuki (Infini-T Force) directed the series at Tatsunoko Production, with Kyoji Asano returning to provide character designs. Tow Ubukata (Ghost in the Shell: Arise, Le Chevalier D'Eon) took over for Gen Urobuchi on series composition.
A feature film project, titled Psycho-Pass: The Movie, hit Japanese theaters in January 2015. The film was helmed by Naoyoshi Shiotani (Blood+, Psycho-Pass) and Chief Director Katsuyuki Motohiro (Psycho-Pass) at Production I.G. The team of Gen Urobuchi (Puella Magi Madoka Magica, Fate/Zero) and Makoto Fukami (Fate/Zero, Psycho-Pass) wrote the screenplay, while Yuugo Kanno (Birdy the Mighty: Decode, Gundam Reconguista in G) scored the soundtrack. The team of Kouji Aoki, Kyoji Asano (Attack on Titan), and Naoyuki Onda (Berserk: The Golden Age, Ergo Proxy) provided character designs.
Funimation currently holds the domestic rights to the Psycho-Pass anime. They describe the title as:
Welcome to a world where just thinking about a crime is enough to enough to make you guilty. Bad intentions can no longer be hidden, and the police know exactly which tainted minds are about to cross over to the wrong side of the law. The great equalizer in the war on thugs is the Dominator, a futuristic weapon that can read minds and assess the risk that a citizen will turn criminal. Cops work in teams made up of Enforcers and Inspectors. Enforcers take out the bad guys, Inspectors stop their partners from going rogue, and the all-powerful Sibyl System keeps a watchful eye on us all. Society is paralyzed by its deepest, darkest desires, and trial by jury has been replaced by the wrath of the Dominator. Welcome to the future. How guilty are you?
Source: Comic Natalie
Psycho-Pass 3 Gets First Character Visuals & A New Trailer – Samantha Ferreira