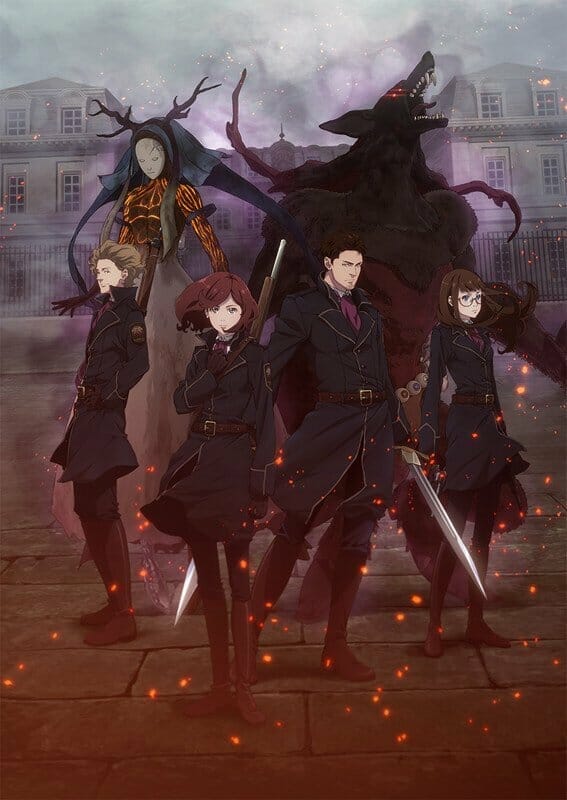 Earlier today, Funimation took to Twitter to announce that they will stream Fairy Gone as part of their Spring 2019 simulcast lineup. The first episode will launch on April 6, at noon Eastern (9:00AM Pacific). Funimation will also produce a SimulDub for the show, which launches on April 28, at 4:00PM Eastern (1:00PM Pacific).
The series will be available to subscribers in the United States, Canada, the United Kingdom, Ireland, Australia, and New Zealand.
Kenichi Suzuki (Drifters, Cells At Work!) was tapped to direct the project at P.A. Works, with Takako Shimizu (JoJo's Bizarre Adventure) providing character designs. Ao Jūmonji (Grimgar of Fantasy and Ash light novels) is in charge of series composition.
(K)NoW_NAME will perform opening theme song KNOCK on the CORE.
Other confirmed crew members include:
Original Concept: Five Fairy Scholars
Original Character Design: Haruhisa Nakata
Music: (K)NoW_NAME
The confirmed voice cast includes:
Maria Noel: Kana Ichinose
Free Underbar: Tomoaki Maeno
Veronica Thorn: Ayaka Fukuhara
Ulfran Low: Yoshimasa Hosoya
Clara Kisenaria: Ayaka Suwa
Serge Tovah: Yoshiki Nakajima
Nein Auraa: Mie Sonozaki
Damian Carme: Takehito Koyasu
Ray Dawn: Eizou Tsuda
Oz Maher: Yasuhiro Mamiya
Jet Glaive: Hiroki Touchi
Marco Bellwood: Houchu Ohtsuka
Lily Heineman: Atsumi Tanezaki
Robert Chase: Kōji Okino
Eleanor Need: Mikako Komatsu
Griff Mercer: Kenjiro Tsuda
Cain Distaroru: Mugihito
Axel Rabū: Shinji Kawada
"Sweety" Bitter Sweet: Minako Kotobuki
Patricia Pearl: Yuka Iguchi
Jonathan Passepierre: Kazuyuki Okitsu
Biivii Risukaa: Hisao Egawa
Sophie: Shizuka Itou
Schwartz Diese: Takaya Hashi
Ewan Breeze: Kenji Nomura
Funimation describes Fairy Gone as:
From the director of Drifters, and the creator behind Grimgar, Ashes and Illusions, comes a war-torn world on the brink of calamity. Able to summon fairies as alter-ego weapons, former soldiers become government dogs, mafia members, and even terrorists in search of purpose beyond the battlefield. Who will maintain the peace they all fought for nine years ago?
Source: Twitter (Funimation)
Funimation Adds Fairy Gone to Spring 2019 Simulcasts; Plans SimulDub – Samantha Ferreira