Earlier today, the official Ensemble Stars! anime website updated with a new key visual, as well as the main staff attached to the project. We break the details down below.
Key Visual
The image features the members of the main idol groups, posing in front of a white background.
Staff
Junpaku Yagurashita will direct the project at David Production, with Yasufumi Soejima serving as series director. The team of Haruko Iizuka, Tomoyuki Shitaya, and Eri Nagata are providing character designs, while Shinichi Inotsume (Gangsta., Persona 5 the Animation) takes charge of series composition.
Other confirmed crew members include:
Original Concept: Happy Elements
Series Composition: Akira
Original Character Designs: Happy Elements
Art Director: Saho Yamane
Color Design: Eri Suzuki
3D Supervision: Daisuke Kusaka
Cinematographer: Tomoya Kamijō
Editor: Mai Hasegawa
Music Director: Satoru Kuwabara
Music: Tatsuya Katō
Sound Director: Takatoshi Hamano
Key Visual
The image features all of the idol groups, posing against a white background.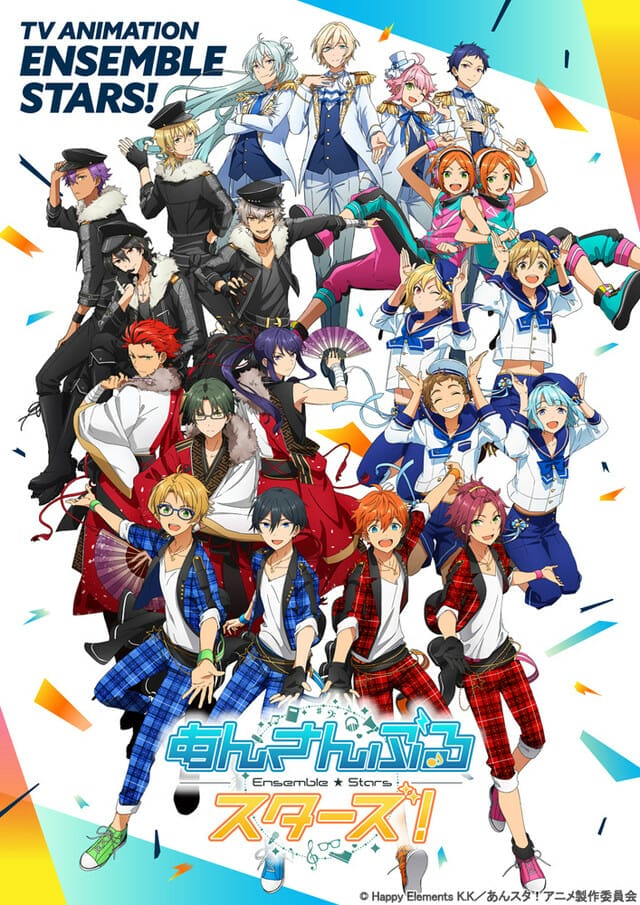 Cast
The series will star the following:
Trickstar
Hokuto Kōritaka: Tomoaki Maeno
Subaru Myōjō: Tetsuya Kakihara
Makoto Yuuki: Shotaro Morikubo
Mao Kisara: Yuuki Kaji
fine
Eichi Tenshōin: Hikaru Midorikawa
Wataru Hibiki: Takuya Eguchi
Tori Himemiya: Ayumu Murase
Yuzuru Fushimi: Koutaro Hashimoto
Red Moon
Takahito Hasumi: Yuichiro Umehara
Kuro Kiryu: Shin'ichirō Kamio
Sōma Kanzaki: Keisuke Kaminaga
UNDEAD
Rei Sakuma: Toshiki Masuda
Kaoru Hakaze: Kei Hosogai
Kouga Ogami: Tomoki Ono
Adonis Otogari: Wataru Hatano
Knights
Reo Tsukinaga: Shintaro Asanuma
Izumi Sena: Sami Itami
Ritsu Sakuma: Daiki Yamashita
Arashi Narukami: Ryo Kitamura
Tsukasa Shuo: Reiō Tsuchida
Meteor Party
Chiaki Morisawa: Yuichi Jose
Shinkai Souta: Kōtarō Nishiyama
Tetsuko Nagumo: Yoshiki Nakajima
Midori Takamine: Takumi Watanabe
Shinobu Sengoku: Anju Nitta
Ra*bits
Nazuna Hito: Yūki Yonai
Hikaru Tenma: Junya Ikeda
Tomoya Mashiro: Shunya Hiruma
Hajime Shino: Tomoya Kosaka
2wink
Aoi Hinata: Sōma Saito
Yūta Aoi: Sōma Saito
Valkyrie
Itsuki Takashi: Hiroki Takahashi
Mika Kagehira: Jun Oosuka
Switch
Natsume Sakasaki: Kenji Nojima
Tsumugi Aoba: Kaito Ishikawa
Sora Harukawa: Kazutomi Yamamoto
MaM
Madara Nikejima: Kousuke Toriumi
Adam
Nagisa Ran: Junichi Suwabe
Ibara Nanashi: Ryota Ohsaka
Eve
Hiyori Tomoe: Natsuki Hanae
Jun Sazanami: Yuuma Uchida
Teachers
Jin Sagami: Tomoyasu Hishiba
Akiomi Kunugi: Wataru Komada
Visuals for the groups were also revealed, which you can check out below.
Ensemble Stars will air on July 7. TOKYO MX will air the series at 22:30 (10:30PM JST), while Sun TV, KBS Kyoto, TV Aichi, and BS11 are also confirmed to carry the show.
The series was first announced in 2015, with GENCO attached as the studio. The show was originally slated for a 2017 première, though it was delayed due to what both companies described as "various circumstances."
The Ensemble Stars smartphone game launched on Google Play on April 28, 2015. The iPhone release came three days later, on May 1, 2015. The title has since received four stage musicals, a manga series, light novels, and music CDs.
Source: Comic Natalie
Ensemble Stars! Anime Gets Main Staff & Cast – Samantha Ferreira