Earlier today, Crunchyroll announced that they are partnering with Twitch to host an anime marathon on digital platform Twitch. The presentation, which kicked off on February 10, will stream the following:
2/10/2019: Golden Kamuy Episodes 1-12
2/11/2019: Golden Kamuy Episodes 13-24
2/12/2019: Laid-Back Camp Episodes 1-12
2/13/2019: Planet With Episodes 1-12
2/14/2019: Zombie Land Saga Episodes 1-12
2/15/2019: Angolmois: Record of Mongol Invasion Episodes 1-12
Crunchyroll will stream this year's Anime Awards ceremony exclusively on Twitch on February 16, at 6:00PM Pacific (9:00AM Eastern).  This year's event will be hosted by Cristina Vee, and will feature thirteen guests to present awards. Presenters include voice actor Justin Briner, influencer Tristan Gallant, and IGN Senior Editor Miranda Sanchez.
As part of the event, a lifetime achievement award will be presented to BONES President and Producer Masahiko Minami.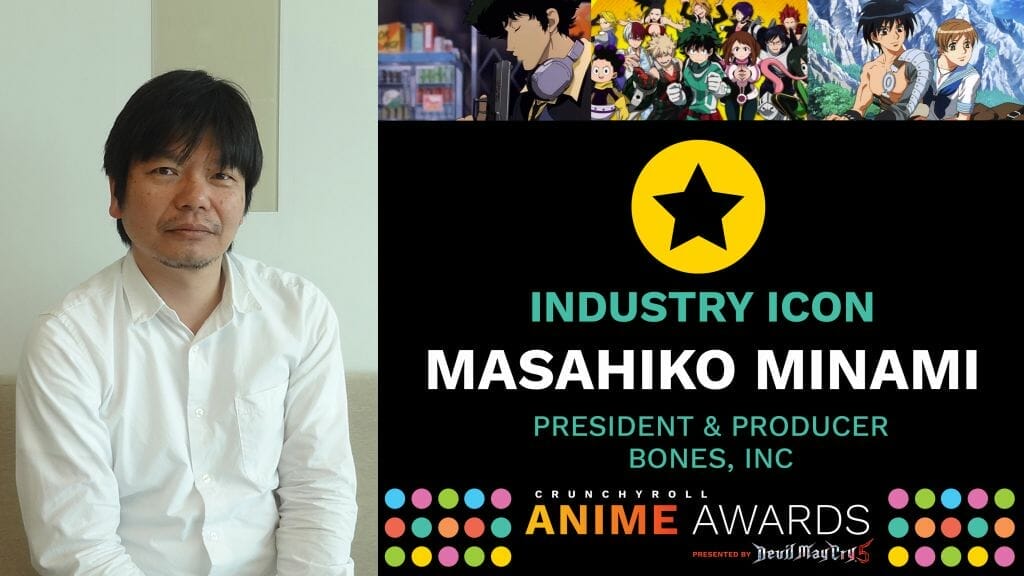 In addition, Crunchyroll opened fan voting for ten bonus award categories. We break the categories and nominees down below:
Best Comedy
Hinamatsuri
Pop Team Epic
Wotakoi: Love is Hard for Otaku
Asobi Asobase – workshop of fun
Gintama: Silver Soul Arc
Karakai Jozu no Takagi-san
Best Drama
The Ancient Magus' Bride
Banana Fish
March comes in like a lion
Steins;Gate 0
After the Rain
Dragon Pilot: -Hisone & Masotan-
Best Action
Goblin Slayer
Thunderbolt Fantasy 2
My Hero Academia Season 3
Sword Art Online: Alicization
JoJo's Bizarre Adventure: Golden Wind
Black Clover
Best Romance
Darling in the Franxx
Rascal Does Not Dream of Bunny Girl Senpai
Banana Fish
Bloom Into You
Tada Never Falls In Love
Iroduku: The World in Colors
Best Slice-of-Life
Laid-Back Camp
A Place Further Than the Universe
Violet Evergarden
The Disastrous Life of Saiki K.
How to Keep a Mummy
Today's Menu For the Emiya Family
Best Sports Anime
Hanebado!
Umamusume Pretty Derby
Yowamushi Pedal: Glory Line
Tsurune
Run With the Wind
Megalobox
Best CGI
Double Decker! Doug & Kirill
SSSS.Gridman
Hi-Score Girl
Fist of the Blue Sky: Regenesis Season 2
Overlord III
Attack on Titan Season 3
Best Soundtrack
Devilman Crybaby
Megalobox
Violet Evergarden
Revue Starlight
Liz and the Blue Bird
A Place Further Than The Universe
Best Show About High Schoolers Doing A Very Specific Thing
Laid-Back Camp
Comic Girls
Tsurune
Revue Starlight
Food Wars! The Third Plate
Hinomaru Sumo
Best Dragon
Veldora Tempest (That Time I Was Reincarnated As a Slime)
Masotan (-DRAGON PILOT -Hisone & Masotan-)
Futomomo (– DRAGON PILOT -Hisone & Masotan-)
Super Sheron (Dragon Ball Super)
Issei Hyodo (High School DXD Hero)
Acnologia (Fairy Tail)
Source: Crunchyroll (Email Communication)
Crunchyroll to Stream Anime Marathon & The 2019 Anime Awards on Twitch – Samantha Ferreira