At this year's AnimeJapan, the staff behind the Cells At Work! anime announced that the series will get a second season. A new visual and a trailer were revealed for the run, the details of which we break down below.
Trailer
The 50-second teaser opens with a familiar visual of the cells, hard at work at their daily deeds. The footage then cuts to character introductions for Red Blood Cell, White Blood Cell, Killer T Cell, Macrophage, and Platelet.
Key Visual
The image features Red Blood Cell, White Blood Cell, Killer T Cell, Macrophage, and Platelet, set in a white background lined with a red grid.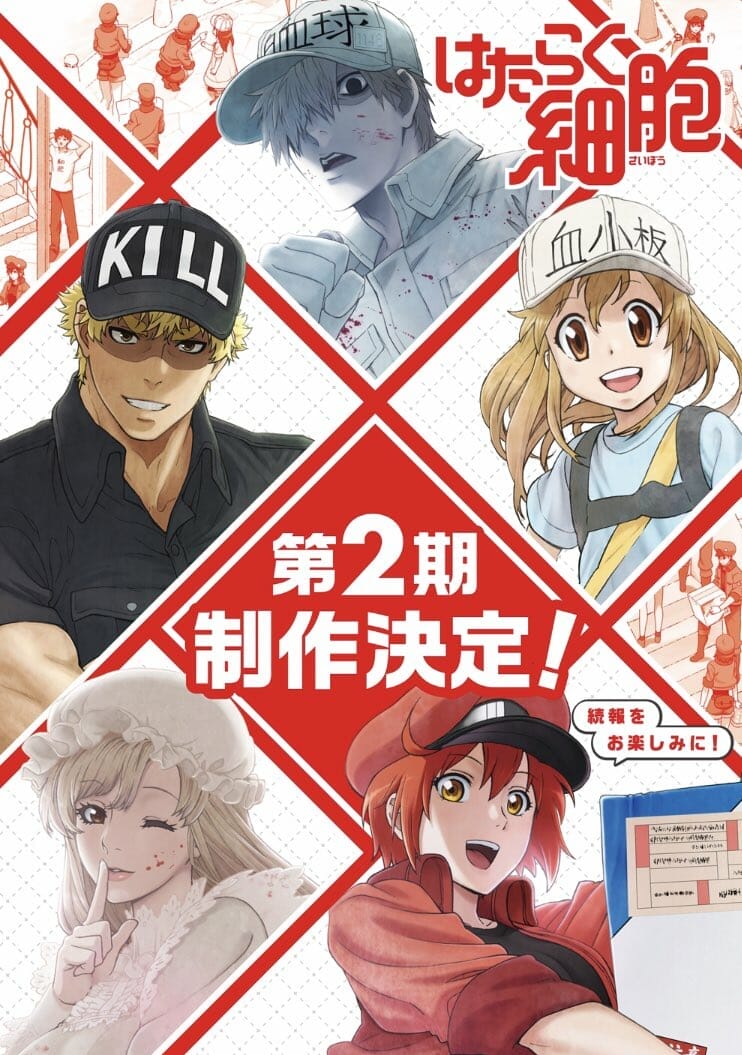 Cast
The following cast members will reprise their roles in the new season:
Red Blood Cell (Erythrocite): Kana Hanazawa
White Blood Cell (Neutrophil): Tomoaki Maeno
Macrophage: Kikuko Inoue
Killer T Cell: Daisuke Ono
Platelet: Maria Naganawa
The first season of Cells At Work! aired in the Summer 2018 broadcast season. Kenichi Suzuki (Drifters, Gundam Evolve) directed the project at David Production, with Takahiko Yoshida (Welcome to the NHK, Yowamushi Pedal) providing character designs. Yuuko Kakihara (Chihayafuru 2, Tsukigakirei) was in charge of series composition.
Aniplex of America currently holds the rights to the title, which they describe as:
This is a story about you. A tale about the inside of your body…

According to a new study, the human body consists of approximately 37 trillion cells.

These cells are hard at work every day within a world that is your body.

From the oxygen carrying Red Blood Cells to the bacteria fighting White Blood Cells,

Get to know the unsung heroes and the drama that unfolds inside of you!

From the popular manga "Cells at Work!" comes a brand new anthropomorphized anime TV series!

It's the oddly relatable and interesting story that is the life of cells!
Akane Shimizu's Cells at Work! manga launched in the pages of Kodansha's Monthly Shonen Sirius in March 2015. The series currently spans five compiled volumes, with the most recent book hitting retailers on August 9, 2017. Kodansha Comics currently holds the rights to the title in North America. They released the fifth volume on November 21, 2017.
Source: Comic Natalie